It's funny looking back.. at the posts this time last year… funny really isn't the right word…. but you know what I mean….
April 23, 2013 read….. " today…   and the last few weeks haven't been that great.  :O(    I'm seeing a decline…"
And yet one year later… April 23, 2014, we are celebrating a one year birthday of "Wilson Wigglebutt".  It is true… there are still many, many good things ahead to look forward to.. even if our hearts are breaking and we think in our heads that we just cannot go on…  that is how I felt.. and I won't lie to you and say I don't feel that way anymore… I have my days..  and on those days.. It feels like it was just last week.. not 11 1/2 months ago that Franklin left us.
And to think that Wilson was born on the day I blogged about my Franklin declining…..   Things work in mysterious ways.  What is funny though, is that when I was online looking at the littler of pups.. Wilson's picture was there.. and I thought.. "oh.. he is a cutie.. we should get him".  But… I didn't want a puppy too soon with Franklin not doing well..and I was hoping that Franklin would have made it through a nice warm summer on the deck.  And everytime I went back to check that website… no one had bought Wilson (otherwise known as Tricolour Male Pup #4).  When we let Franklin go.. and I called the breeder 2 days later.. he was still available…  yup.. things work in mysterious ways.
I can't believe it has almost been a year….   And I still have not dreamt of him…  :O(
I think that is what upsets me the most sometimes….  I wish he would come to me so I could hug him again.. stroke his head and plant a big huge kiss on this brow right between those big brown eyes…  maybe I just wish too hard sometimes..  it will happen eventually, or maybe it won't.   He never was really good on the recall off leash!!  He used to get a talking to when he wouldn't come when called.. I guess I will have to do that when I arrive at the Bridge as well!!  lol
Maybe it is because I can feel him so strong in my heart that he knows I am okay… maybe.
We are coming up to the one year mark big guy….  we all love you fiercely and miss you terribly….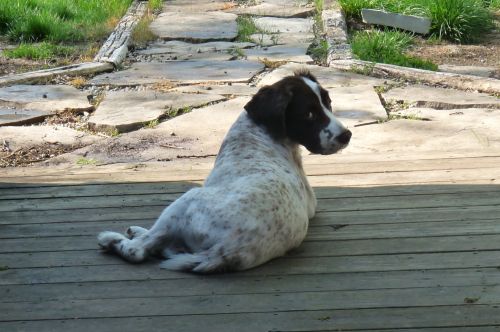 bark atcha later