Found a whole bunch of pictures today from when we first adopted Franklin….  They brought many smiles…  and warm memories.
Here is a funny story…. I'm going to take you back to almost 8 years ago!!
I saw online that there was a 6 year old Springer Spaniel at the Cambridge SPCA.  Cambridge is about 15 minutes north of us so we decided to go check him out.  Apparently, Franklin's owners had turned him over to find a new home because they had a baby and did not have time for him.  When we took Maggie up to meet Franklin at the SPCA, we went out into the fenced in yard where you could see the dog loose, inter-act, etc.  Maggie was with us of course because I wanted to see how they acted with each other.  Well, Franklin being the goofy guy that he is.. was running around and he would body slam into Maggie with his side..  Maggie was not too impressed with this and started to hide behind us..   We chaulked it up to the fact that the guy was in the SPCA pen and not out much and just was so ahppy to be out that he was releasing his energy.  Once he calmed down, the two of them sniffed and kind of ignored each other but did wander around the yard for a bit.
We told them that we were going home (as it was the end of the day) and that we would talk about it overnight and let them know.  The next morning, the SPCA sent me an email saying that if we wanted Franklin, he was ours.  Since we already had a Springer, we knew what were were in for.  LOL  So.. we decided yes.. let's go get him.
My daughter and I drove up to the SPCA to get him.  He was very happy and on his best behaviour… until we hit the reception area.  He saw a cat.. and chased after him.  "Well now.. this poses a bit of a problem, " I said..  "becauseeeeeeeeee we have a senior cat at home, Diesel who has seniority.. and if he chases after my cat the way he did that one.. I will not be impressed.  He will be coming back here and I expect my money back!"  They agreed to do it (normally you do not get refunds from the SPCA) but they did say that this cat was the one that walks up and down the rows between the dogs cages and teases them.  So… in Franklin's world.. he was getting the last word in!!!  lol
Franklin loved to lie on the stairs.. he had his own style…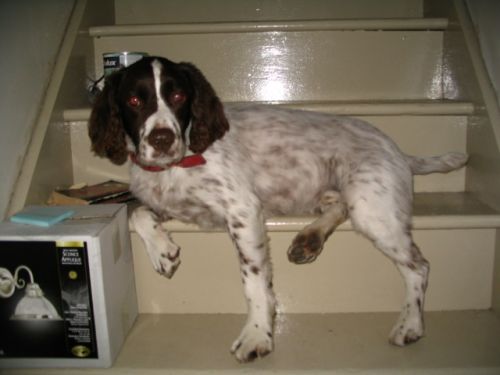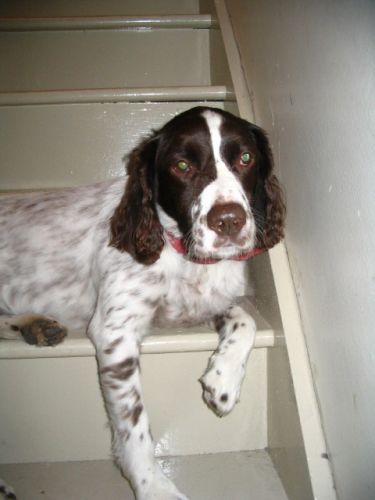 We brought Franklin home on November 20, 2005.. and this is how he was after living with us  two weeks!
Another week.. and our furry friend Diesel joined the picture…
Yes.. that is Diesel.. using two dogs for a pillow!!  What a crazy cat!!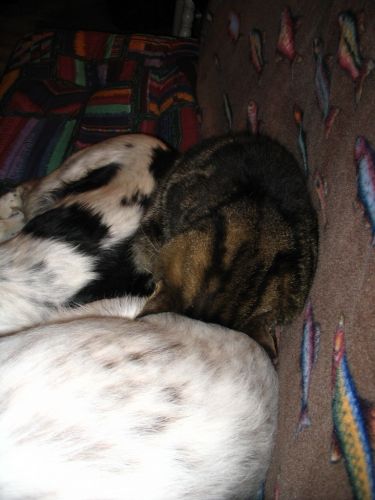 This was our first Christmas with Franklin…. he got a brand new ball..  for the first month.. he didn't know what a toy was.. didn't even play with them or look at them…
He used to lie right in the middle of things.. right in the middle of the wrapping paper pile!!
I think he was waiting for his stocking… !!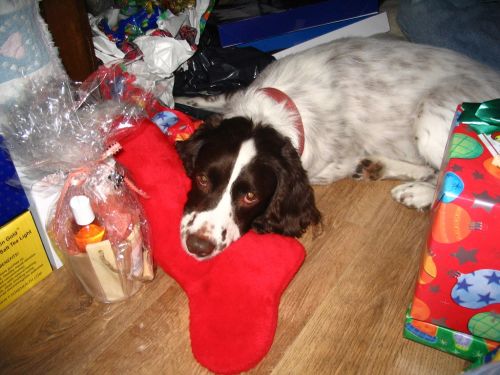 Our first Christmas together.. December 2005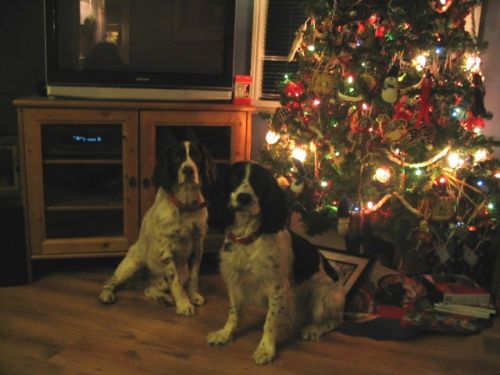 I will miss you at Christmas this year buddy… just won't be the same.  
bark atch later!