Yup.. I said Hollow….   which was how I felt a little while ago….   facing the year of "firsts:"…   and today was the day we had talked about and joked about earlier this year… we were going to dress up Franklin as a pirate and get a wooden leg or a hook for his costume…   It is probably an old costume for Tripawds… but we thought he would be the best pirate out there…   after all.. he was the  Frank'n'fart' arrrrrrrrrrrrr
I think today when I get home… everyone deserves pig ears to celebrate what would have been Franklin's first Tripawd Halloween!!
Happy Halloween big guy….   I hope there are plenty of treats in the pumpkin patch at the Bridge!!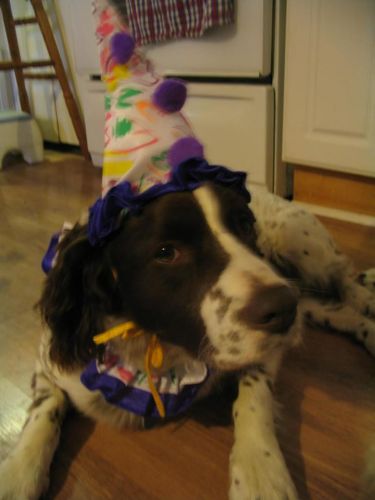 Since I have figured out how to post video links here.. I just have to share another one or two…
First.. Mr. Wilson was standing outside the door looking up at the pergola a week or so ago.. IT was dark and I thought.. what has gotten this little guys attention… I looked out and thought.. oh oh.. a raccoon?  grabing my phone and opening up the door.. I see this….
a leaf.. twirling on a strand of a web….?  Fascinating…….   obviously to the mind of a pup!!!
http://s215.photobucket.com/user/WildSheWolf/media/IMG_18161.mp4.html
And a little proud bragging moments…   Wilson has beenthrough his level one training at obedience school and we are now onto level 2.  Here we are practicing the "Down" command, with hand signal from a distance.  This works for when your dog is loose, or perhaps in a dangerous situation like across the street and you want then to drop where they are so they don't get hurt…   We start out with baby steps.. but we are now at about 10 feet away with the command…
Needless to say.. Maggie is playing along as well.. lol
http://s215.photobucket.com/user/WildSheWolf/media/IMG_18881.mp4.html
He's getting better.. and learning.. every day!!
Bark atcha later