I posted that story in the forums under coping with loss.. and I just love it…  And… I will choose tears until the day comes that I can choose no more…
My Maggie….   is getting old.  That's all..  PHEW!!!!  THANK DAWG!!!  My heart aches seeing her get old… knowing that we have only so much time left..  I think this one, when the time comes, is going to hit me the hardest because she is the last of the three amigos…  Diesel, Maggie and Franklin…
I was very concerned when we went to the vets..  she has her lumps and bumps on her body… those fatty cysts.. but.. the one on her side has almost doubled in size over the last month or so…  and the one at the back of the pad on her paw was a bit concerning too..
So…  the vet drained some of the liquid or whatever it is that makes up those lumpy bumpys and it came back CLEAR… just fatty deposits… nothing to be concerned about!!
(happy dance inserted here ================>     *jiggle*  *jiggle*  )
Now, the lump on her paw is at the back of her pad but is not affecting her walking as she does not press on it.  We could have drained some of it to analyze it but the pads are so sensitive she didn't want to start sticking a needle in there.  She said that even removal of that would be a bit of an adventure as well becuase they don't have skin, etc to pull over.  So I decided to not poke at this time.  Just to keep an eye on it to make sure it doesn't get any bigger.
But.. my Maggie is getting old..   *sigh*  I was petting her last night and I can feel her hip bones starting to stick out..   Her walk is a little slower sometimes.. and her getting up is slower as well..   Sometimes when she is sitting and she wants to move over, she doesn't even raise up on her four legs.. she just slides her arse over.. lol
Maggie is a great dog… gentle.. caring.. tolerant, patient, and loveeeeeeeeeeeeeees attention..   She is a orange hockey ball whore!!  She loves her ball chasing, catching, and fetching.  She also loves her cheesies, her carrots,  celergy, asparagus and basically almost anything to eat really.. lol  She loves when you sing to her.. mosting about her though.. you have to sing things like… "Beauuuuutiful Maggie.. you are a queen… the most beautiful girlie that I've ever seeeeeeeeeeen…..!!!!!  She actually squnits her eyes and smiles.. Hang on.. maybe she is grimacing at my singing!!????  All those years I thought she loved it and maybe it has been painful for her!!??  I will have to check this out when I get home… but now that she is about 80% deaf.. maybe she won't mind it now!!
I remember when she was younger, she used to jump off of the docks, pool ladders, just about  anything to get her orange hockey ball!!  She used to jump from the ground up into Fred's arms… after all.. she IS a springer!!
Here's a few memories of my Maggie Girlie…
Pretty Pup….  June  2002
Maggie at 3 months old…. and again in the same pose at  1 1/2 years old…
one of my all time favourite pictures…  Maggie and Diesel.  This picture was taken when I split from my ex-husband.. I remember putting that chair in the room and they jumped up onto it.. November 2003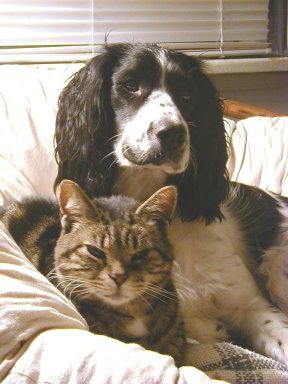 Maggie 2004 – 2 years old…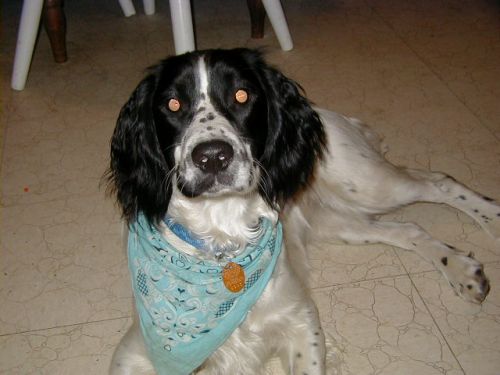 MAggie and Franklin… December 2005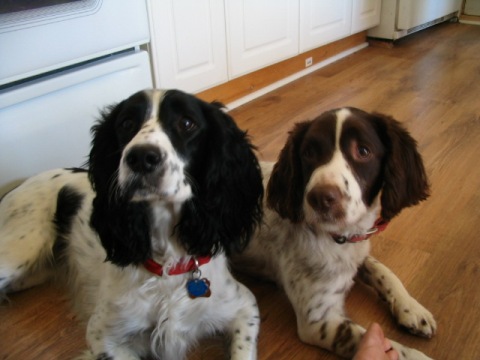 This was my screen saver for the longest time.. made me smile…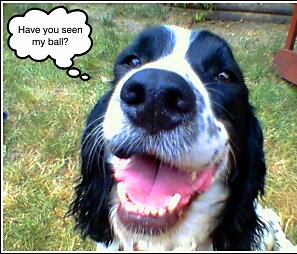 My girlfriends daughter loves photography and here is one of her pictures…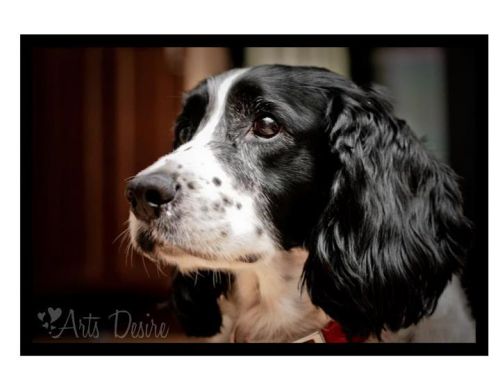 My Maggie girl….  May 2013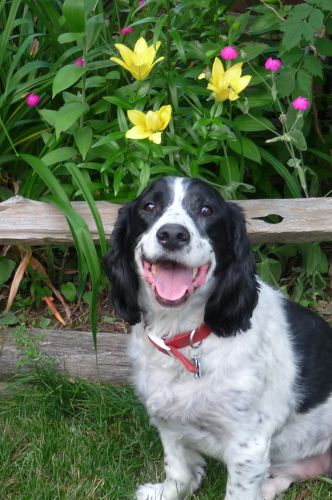 Bark atcha later………..