Got the test results today…..   




Trichoblastoma!!!   it's my new best friend!!
Canine trichoblastoma are a skin disease characterized by benign neoplasia of follicular germ cells.  A breed predisposition has been reported in the Kerry Blue Terrier, Bichon Frise, American Cocker Spaniel and Welsh Springer Spaniel[1].  (Obviously English Springer Spaniels too!!!)  
These tumors were originally classified as basal cell tumors but have since been reclassified.  Benign variant forms such as clear cell trichoblastoma have also been reported in the dog[3].
Trichoblastoma usually appear as an elevated pigmented or cystic mass varying in size from 1 – 5 cm overlying areas of alopecia and hyperpigmentation. the affected area may be ulcerated and they need to be distinguished from mast cell tumors, hemangiopericytomas, trichoepithelioma, tricholemmoma[4] andmelanomas[5].
Surgical excision is usually curative.
so…. for now..  it's benign, it's not cancer… and the vet feels confident with what he removed, it will not come back.  I wish every furkid could have a guarantee like that.  *sigh*
The lab that did the analysis actually sent a note with the results to say "How we wish every pet owner would be as caring and quick as Wilson's owners.  Their actions show that they truly care about the well being of their beloved pet".  Wow..   well… when you have already dealt with that effing "C" word previously, it sure is an eye opener for the future.
Anyhow…. because we did not get the first tumor analyzed, we don't know if that one was the same thing.  So… a waiting game starts…
we play, we snuggle, we celebrate Christmas' and Birthdays, we eat, we sleep, we throw balls and sticks, we eat pig ears and we keep checking for lumpy bumpys….
All is well right now in Wilson's world..    except for the fast that he got really sick from the Metacam… poor guy.. His body does not like that.. vomiting day yesterday.. and no pain killer today.  He seems fine without it actually.
He's had a few small meals of rice with lean ground beef..   and it's staying down…
So.. now.. if we can just do all those late night naked dances around the firepit for everyone else here in the community…  we could be onto something!!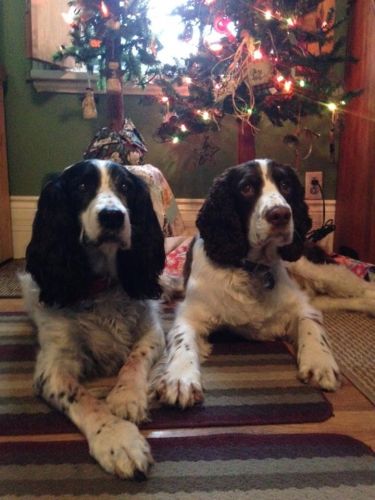 A Merry Christmas it will be.. Maggie is still with us waggin her tail.. and Wilson is cancer free….. (crossing fingers)
Christine… with Franklin in her heart♥