5 days ago.. my life changed… again! So many smiles, so many tears, so many more snuggles and puppy kisses!!! I have got to be crazy.. I forgot what it was like to have a puppy in the house!! Maybe I should have waited and seen if there was a rescue Springer to pop up! Nah.. puppy for now.. rescue spring will happen in a year or so.. which means.. I will have 3 dogs at one time!! yikes!!
Thursday morning we rose very early to make the 2 hour drive to Sarnia to pick up our new addition to the family. We got there about 8:15am and it was a rainy day! After he got his first set of booster shots, and his deworming, money was exchanged, pictures were given to us from when he was a day old and we walked out to the car with big grins on our faces!
We stopped at a service center so that we could get a coffee on the way home and to let him out on his harness and leash to see if he needed a pee. Well.. it was the first time he saw grass.. and wet grass to boot! He just sprawled out in it not moving.. then started licking it!! After a while, he did realize it was ok to walk on and we walked around for a bit.. and he did pee!! Good little guy!!
We introduced him to Maggie at home in the kitchen then proceeded outside to the backyard. After a few looks from Maggie as if to say.. "WTF???" we got him to do his business outside in the backyard. We have had a few snarls, growls, yips and snaps from Maggie to the little guy,. But she is telling him the laws and who is boss. She doesn't like when he gets tooo hyper and starts getting snippy. She sets him straight there. Sometimes she lets him lay beside her.. sometimes she doesn't lol. She doesn't mind when he is beside her when we go for a walk, or when they are walking around the backyard.. She has even laid on the deck and let him play with her orange hockey ball! Mind you.. I could hear her screaming at him to leave it alone!!
Overall.. it will take a little bit for her to adjust to him and him to her.. he will learn her laws… eventually.
Crate at night time has worked out very good.. he wakes up through the night once.. goes outside to do his business then goes right back to sleep again Thursday he woke up at 3:40am then went back to bed till 7am, Friday was 5:00 am and back till 8am and Saturday was in bed at 11:30pm and slept till 6:45am straight through!! And NO messes in his crate!! He is such a good boy…
Saturday was the one month anniversary for my sweet Franklin ♥♥♥♥ and to celebrate and toast Frankie, we played with Franklin's squeaky hotdog with the new pup. Not the original hot dog, as that one is with Franklin on the dresser! But, Franklin loved those squeaky toys and yes, we did have more than one!! I know Franklin was grinning seeing how much this guy LOVES squeaky toys too!!!
We decided on his name by Saturday.  We played with a few names.. Winston being one, Wendall, Jasper, Jackson, and Ripley being the others. But…he responded best to one in particular.
So.. without further adieu… I introduce to you… Mr. Wilson!!!!
We decided on Saturday that his name was Wilson as this is what he responded to best!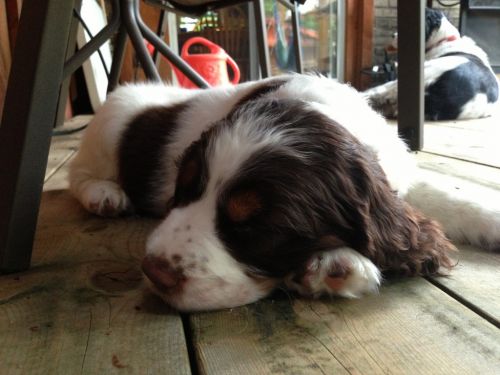 Puppy Porn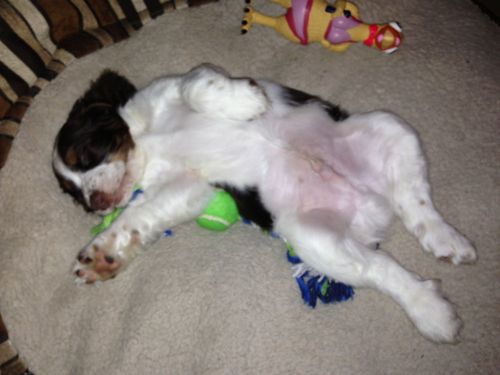 He loves squeaky toys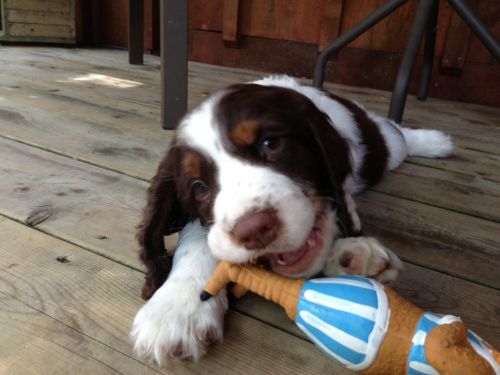 And sometimes, like I said, sometimes, Maggie will let him touch her…  he is actually lying on her back legs here.. lol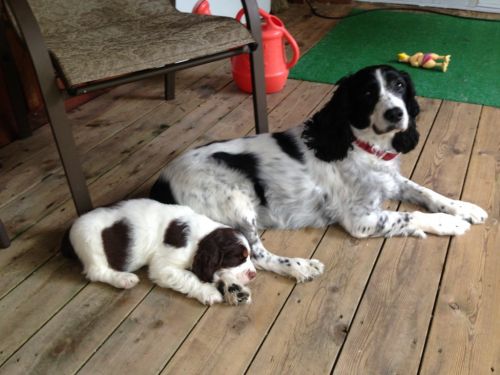 Bark Atcha Later!