I'm regretting…..  yup…  I know it's not a good thing.. and it just gets me teary eyed…but I am starting to regret some things..   I think we all go through it when we have lost a tripawd…. it is just so gawd dang hard sometimes.  Every day there seems to be a moment… a wave… I wish I knew how to surf.. it would be much easier!! Lol
Yesterday we went to the pet store where we buy our dog food.  We wanted to check out the puppy food in the brand that we have our Maggie on.  It was the first time that we have been to the store since Franklin left us.  We met the lady there.. who always asked how Franklin was.  Of course, I had to tell her that he was running at the bridge.  This is the kind of pet store where you can take your dogs there when you shop.  They loved Franklin.  My sweetie used to take him there shopping for pig ears.  Ok…..  picture this.. Franklin standing in front of the pig ear box.. on his level..at a WHOLE BOX of pig ears!!!  droooooool    My sweetie would say ok.. and he would pick out pig ears one by one and he would give them to Fred to put in the bag…   lmaoooo.  I regret not getting THAT on video!!
Needless to say.. my hubby broke down in the pet store when he looked at the box of pig ears.  Geesh…Men!!!  At least I waited till I was in the car!!!  lol
I have a whole bunch of "little regrets"…..  like not taking him ice fishing one more time, not taking him for more ice cream cones, not taking him to the dog park more often.  But one of my three biggest regrets are:
I regret my decision of just letting Franklin be a dawg when he was diagnosed in September 2012..  I should have had his leg amputated right then.. but I was so un-educated, unknowing, uncertain.  I kept thinking.. "man.. he's 14!!" But it does make me wonder if we had done the amputation 4 months earlier, would he have gotten the lung mets?  Would he still be here?
I regret not doing the chemo…   I read so many success stories on this site of puppies and kitties having chemo and going through it with flying colors!  And they are still with their owners being the damn cutest tripawds on the planet!  And that is the coolest thing and it makes me smile!!  Yet,  the other part of me wishes I could be posting those posts and blogs as well…   But then again, there are many of us here who chose not to do the chemo as well.  I just wonder if we had done chemo, would he still be here?
I regret not getting another dog sooner… last year.  It certainly would have helped Maggie get through the loneliness that she is going through.  It will be interesting on Thursday when we get the pup though.. lol  Oh we will be posting some pictures of that.. lol
Thought I would share a few more memorable pics of my Frankie….
Did you know my Franklin was a model?  My girlfriend makes hot/col corn packs.  They have a removable cover and can be used from the freezer or the microwave.   When Franklin tore his knee, she made him one.  He loved it!  I also used it for him when he had his amputation.
Here he is the day we got him from the SPCA on November 20, 2005.  6 years old..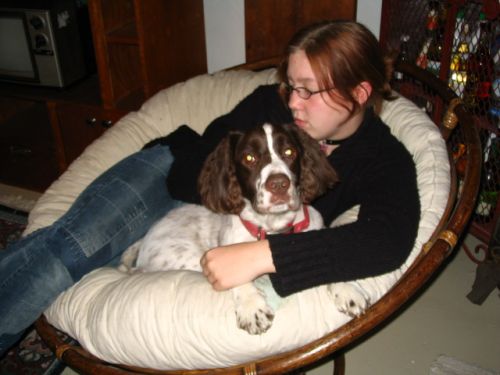 This was his spot at the end of the deck… he was watching the backyard.. making sure those squirrels did not invade and take over the kingdom!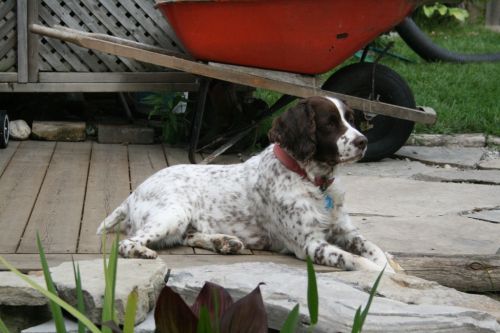 And one of my favs.. of ying and yang… Maggie and Franklin.. always touching butts,  or head to butt, when they were sleeping together.. lol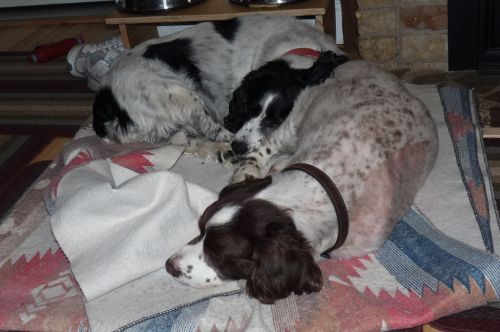 bark atcha later